Richardson, Watson Winners at Riverside; NASCAR Next
Dale Richardson and Matt Watson were the big winners at Riverside International Speedway on Friday night.
Richardson (Stellarton) grabbed the Highland Home Building Centres 100 for the NAPA Sportsman Series by inches over Colby Smith (Barrington Passage). Waylon Farrell (Conception Bay South, NL) was third followed by Lynden MacDougall (Sydney) and Cory Breen (Antigonish) in fourth and fifth, respectively.
Matt Watson (representing Oyster Bed Speedway in PEI) won the Fast Four Invitational – a return of the grassroots division to Riverside after a 12-year absence. Steve Lively (Scotia Speedworld, Halifax) was second and Matthew Warren (Scotia Speedworld) completed the top three finishers. Dave Matthews (Scotia Speedworld) and JR Lawson (Petty Int'l Raceway, River Glade, NB) were fourth and fifth.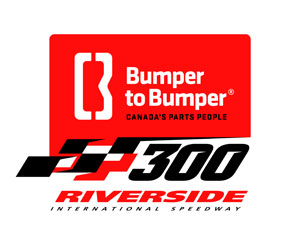 Attention at Riverside now turns to Saturday's Bumper to Bumper 300 for NASCAR Pinty's Series, the only stop in Atlantic Canada for the country's only national racing series, sanctioned by NASCAR, the top stock car racing brand in the world.
Donald Chisholm (Antigonish), winner of the 2014 edition of the event, will go for his second win in the Pinty's Series and defend his home track against some of the best stock car racers in the country, including one of Canada's best-known and most accomplished racers Alex Tagliani (Lachenaie, Que.), most recent Pinty's Series winner Kevin Lacroix (Sainte-Eustache, Que.), two-time Pinty's Series winner at Riverside DJ Kennington (St. Thomas, Ont.), inaugural Pinty's Series winner at Riverside and current point leader Andrew Ranger (Roxton Pond, Que.).
Waylon Farrell (third-place in Friday's sportsman race) will do a double-header and make his Pinty's Series debut Saturday.
The Farrell's Excavating 50 for the Upper Clements Park Maritime League of Legends is also on Saturday's race card.
The Box Office/Grandstand open at Noon, Legends heat races are at 2:35 p.m., NASCAR qualifying time trials are at 4:40 p.m. followed by an autograph session, the Farrell's Excavating 50 is set for 6:15 p.m., NASCAR driver introductions are at 7:30 p.m. and the green flag for the Bumper to Bumper 300 is at 8 p.m.
A complete schedule, ticket information, and more can be found at ww.riversidespeedway.com.
OFFICIAL RESULTS – HIGHLAND HOME BUILDING CENTRES 100 (NAPA Sportsman Series)
Dale Richardson
Colby Smith
Waylon Farrell
Lyndon MacDougall
Cory Breen
Wayne Walsh
Jeffrey Breen
Will Farrell
Dave Timmons
Darren Price
Shawn Waterfield
Trevor King
Joey Rudderham
Daniel Delorey
James Sample
Jerry Hayes
OFFICIAL RESULTS – FAST FOUR INVITATIONAL
Matt Watson
Stephen Lively
Matthew Warren
Dave Matthews
JR Lawson
Andrew Warren
Drew MacEachern
Andrew Lively
Tim Webster
Lynden macDougall
Kody Quinn
Art MacNamara
Arnold McGrath
Nicholas Baker
AJ Ford
TJ Deveau
Brandon MacMillan
Zach Langille
Bob Landry
Rhonda Kelloway
Adam Vassallo
Cody Byrne
Chantal Ackles (DNS)
Bumper to Bumper was introduced to the Canadian automotive aftermarket in 1977 and began with two stores. Over the years, the brand presence expanded to the Prairies and entered the Uni-Select fold in 2006. Today, over 100 auto parts stores operate in Western Canada under the Bumper to Bumper banner.  In the coming months, Uni-Select will be rebranding all of its corporate stores under one unified banner: Bumper to Bumper.  In addition, the Bumper to Bumper brand is available to our 1,150 independent wholesalers across Canada, expanding the brand's presence nationally.
Farrell's Excavating Limited is one of the largest heavy civil company's in Newfoundland. Farrell's Excavating play's a major role in the completion of many large provincial and municipal projects that involve the building and paving of the provincial highways and rural roads. Along with producing and placing their own granular and asphalt, they are also a huge player in moving heavy equipment throughout the island. The company's experience, resources, equipment and highly skilled and trained workforce continue to lead them into a future of exponential growth within their industry.
Riverside International Speedway is recognized as a premiere stock racing facility in Canada. The 1/3-mile high banked asphalt oval roars to action several times a year for special events. It is the home for eastern Canada's only NASCAR event, and of the IWK 250 – widely known as the best stock car race in Canada. Located in James River, between New Glasgow and Antigonish, the facility is easily accessible at exit 30 on Trans Canada Highway 104. For more information call 902.863.2410 or click www.riversidespeedway.ca.