IWK 250 Tickets Now Available
Tickets are now available for the IWK 250 Super Race Weekend Presented by Steve Lewis at Riverside International Speedway from July 13 to 15.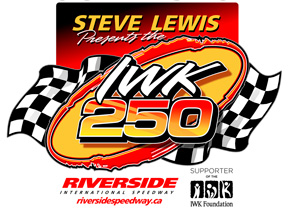 Starting June 21, fans can purchase our Weekend Pass which includes options for reserved and general admission seating. Starting July 5, fans can purchase Single Day Tickets which are available as general admission only. View our IWK 250 event page for ticket prices and seating options.
A Weekend Pass includes admission to the IWK 250 Tailgate Party featuring Signal Hill on Thursday, July 13, the R&D Performancenter Sportsman 150 and Maritime Legends Challenge presented by Farrell's Excavating on Friday, July 14, and the IWK 250 presented by Steve Lewis on Friday, July 15 where NASCAR Hall of Famer Mark Martin will take on the best racers from the East Coast, and beyond. Fans on hand Friday and Saturday can also meet Danny 'Chocolate' Myers, legendary gas man for the late Dale Earnhardt Sr. and an internationally syndicated host of 'Tradin' Paint' on Sirius XM NASCAR Channel 90.
Fans are reminded that all camping and/or overnight parking (RV's, tents, etc,) at Riverside International Speedway between July 12 and 16 requires an advance reservation. The campsite is currently at 100% capacity but we are working diligently to secure more space to accommodate as many RV guests as possible. If you would like your name on the campsite request list, please email mclean@riversidespeedway.ca including RV details and a daytime contact number. An email will be sent to those on the list as space becomes available.
Thirty-six pro stock teams have already entered the IWK 250 – and a few more are anticipated – view the expected entry list, to-date, on our IWK 250 event page (scroll down on the page to the  'Entries' tab). It is the most anticipated stock car race this region has seen in a number of years.
It's more than a race…It's an event!